Help Secure the Next Needed Hearing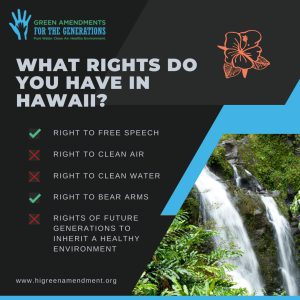 As of the First Lateral deadline (Feb 17), the Hawaii Green Amendment (Senate bill, SB635) is alive and well, and advancing.  With the next deadline, First Decking, now looming, we are focusing efforts on securing a hearing in the JDC/WAM committees.  The hearing decision lies with Sen. Dela Cruz refused to hear the bill.
Please activate your networks and help us create a wave of support requesting Sen. Dela Cruz hear SB635.
Contact information:
Sen. Dela Cruz, Chair Ways & Means
808-586-6090
Not sure what to say? Here's a suggestion:
Aloha Senator Dela Cruz,
My name is _____ and I'm a resident of ______.
Please schedule to hear and pass SB635 in your Committee on Ways and Means. This bill proposes a constitutional amendment that would crucially strengthen the environmental protections currently recognized in our Hawaii Constitution. This is needed now more than ever in these times where ecosystems and our climate are facing destruction. Having the Green Amendment would support and secure better government decision-making that avoids environmental pollution and degradation, and avoids litigation, as the health of the environment and environmental impacts would be considered first, at the start of planning, decision making, and regulating.  Think Red Hill.
We all need clean water and air, a healthy environment and climate to live healthy, long and good quality lives.  Please schedule and pass this very important bill.
Mahalo!
Join the Hawaii Green Amendment Action App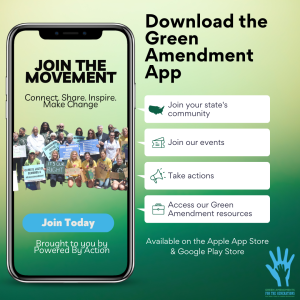 Green Amendments For The Generations has a new white label app that you can join to be up to date on all of the hot news and action opportunities.  Be sure to join the Hawaii Amendment Movement page.  You can also join the national page if you want to see what other states are doing. But to be up to speed on Hawaii it is important you join the Hawaii community.
You can download the app to your phone from the app store by typing in Green Amendments FTG
Or you can join on your computer via the web by going to this link.
However you join, this will be the best place to stay up to date and engage.
Be sure when you sign up to set the email/push notifications to suit your life style, turn them on, turn them off or limit them.  It's easy and will ensure the best experience.
Sign Our Petition
We need your support! Help us demonstrate support for a Hawaii Green Amendment by signing the Individual Petition, and be sure to share it with your family and friends. Sign Our Petition Now.
Write A Letter To The Editor
A letter to the editor can let your community know what the Hawaii Green Amendment is and how it can help your community and environment.
You can use our online portal to help you get your letter to the news outlets serving your community.  It's easy. Just a few clicks, share your thoughts, click again and you will have submitted your letter to the news outlets in your area.
Click here: to get to our user-friendly letter to the editor portal
When writing your letter, consider tying in a local issue or recent article and feel free to use any of the information provided on the resources tab of this website.
Once your article is published, be sure to tag us share it with us on social media so we can help raise up your letter and leadership by sharing it with the world.
Hawaii Social Action Toolkit
Encourage Others
Encourage others to sign the petition!
Share the link on social media, or print a copy of the petition and take it with you to work, coffee shops, social gatherings or events, and ask others to sign the petition too. Once you have a completed sheet, be sure to mail or scan and email copies to GAFTG@forthegenerations.org. You can print a copy here.
Mail paper petitions to
Green Amendments For The Generations
925 Canal Street 7th Floor, Suite 3701
Bristol, PA 19007